Mickey Morton in The Monkees episode "A Coffin too Frequent".
Personal Information
Born:
8 March 1927
Birthplace:
Milwaukee, Wisconsin
Died
8 August 1993
(aged 66)
Deathplace:
Los Angeles, California
Career/Family Information
Occupation/
Career:
Actor
Years active:
1965 to 1992
Character information
Appeared on:
Three's Company
Character played:
Floyd in the episode "The Loan Shark" (Season 4)

Mickey Morton (8 March 1927 – 8 August 1993) appeared as Floyd, a goon for Bernie Bustamente (Harold J. Stone), a local mobster/loan shark who enlists Jack to cook for his wife to pay off a loan Chrissy errantly makes in the Three's Company episode titled "The Loan Shark" in Season four. Mickey was perhaps best recognized to TV series viewers for a guest part in Star Trek: The Original Series, playing drill thrall Kloog in the second season episode "The Gamesters of Triskelion" in 1968.
Career
After leaving his hometown of Milwaukee, WI in 1965 for Hollywood, Mickey, who towered at 6'8", soon began to get picked for supporting roles on such hit TV shows such as Star Trek, Mannix, The Jim Nabors Show, and Gunsmoke. He also appeared as the commercial pitchman for Hunt and Wesson's "Big John Beans N' Fixin's" canned food product.[1] Mickey's many other television credits include guest appearances on I Dream of Jeannie, Fantasy Island, Alice, as "Mr. Sullivan" in two episodes of Growing Pains, and as "Gargantua" the ape on episode 7 of the first season of Wonder Woman with Lynda Carter (Original air date Saturday, December 18, 1976). In 1978, he appeared in the infamous The Star Wars Holiday Special as a Wookie named Malla, alongside Ralph Maurer. He also co-starred with fellow TOS guest stars Frank Gorshin and William Schallert in the 1979 TV special Legends of the Superheroes and with LeVar Burton and Kurtwood Smith in the 1985 TV movie The Midnight Hour.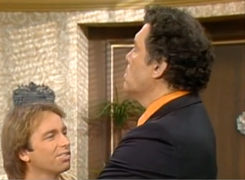 His film credits include Fun with Dick and Jane (1977), The North Avenue Irregulars (1979), and Off the Wall (1983, starring Paul Sorvino). Mickey died in Los Angeles after a brief illness. [2]
References
↑ Actor (Mickey) Morton Makes It Big, Milwaukee (WI) Sentinel article, February 26, 1971, accessed January 23, 2013.
External links