The sexy Italian Lucia Bustamante (Livia Ginise) after being worn out by Chrissy's incessant rambling on Three's Company.
Personal Information
Gender:
Female
Nationality
Italian
Ethnicity
Caucasian/European
Hair Color:
Brown
Body type:
Petite, yet still Curvaceous
Spouse(s):
Bernie Bustamente, a local loan shark
Character information
Appeared on:
Three's Company in guest appearance
Episodes appeared in:
"The Loan Shark"
(Season 4)
Character played by:
Livia Ginise

Lucia Bustamente is a character in the Three's Company episode titled "The Loan Shark" in Season four. The sexy Lucia is played by actress Livia Ginise.
She is the sexy native Italian wife of local mobster and loan shark Bernie Bustamente (played by Harold J. Stone). She began making passes at Jack after Bernie strongarms Jack into giving a cooking lesson for her at the apartment. Lucia, who doesn't know how to speak English, winds up making advances towards Jack, who found it hard to concentrate on cooking Bernie's favorite Italian dish, Linguine! Jack was enlisted by the mobster to cook for her in order to pay off a $75 interest debt on a $300 loan Chrissy errantly takes out from him (which Jack returns in full without the interest)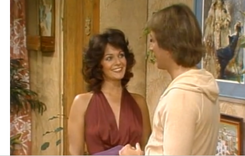 Character synopsis
The sexy Lucia, upon meeting Chrissy for the first time, who was supposed to be receiving a cooking lesson from Jack, instead begins making advances almost immediately towards him upon their meeting, as interpreted by Janet, who was able to decipher what Lucia said when she and Jack went into the kitchen, exclaiming gleefully, "Hot Damn!" The amorous attention from Lucia so gets to the befuddled and frustrated Jack, that he has to go to Furley's apartment to finish his sample dish so he could continue the cooking lesson!
While in the kitchen, Lucia gets so bored by Chrissy's rambling on in the kitchen about her childhood and her Aunt, that when Chrissy leaves the kitchen, a bored, worn-out Lucia wearily sighs "Mama Mia!" in relief. When Mr. Furley learns of Lucia, he, thinking that she has a thing for cooks and believing the stereotype about those "fiery Italians", that "No!" really meant "Ci Ci in Lucia's heart", he then tries to make advances on her himself, completely decked goofily in chef's hat and apron, only to have the now angered Lucia, who really had designs on Jack, throw food at him, making him run out of the kitchen screaming "She's crazy!"