Veteran character actor William Pierson as Dean Henry Travers on Three's Company.
Personal Information
Gender:
Male
Full name
Henry Travers
Occupation/
Career:
Dean at the cooking school Jack attends in Seasons 1-4
Character
description:
Strict headmaster who will do anything to give a good impression of the cooking school to the general public
Character information
Appeared on:
recurring on Three's Company
Character played by:
William Pierson

Dean Henry Travers is the headmaster and dean of the culinary arts school at which Jack Tripper studies to become a chef during seasons 1 through 4 on Three's Company. He was played by veteran character actor William Pierson, who is also widely known for his role as Marko the Mailman in the classic 1953 World War II POW film Stalag 17.
About Dean Travers
In the Season 1 episode titled "It's Only Money", the somewhat gutter-minded Travers, upon discovering that Jack, who is short of money and attempts to get the school to finance a loan for him, has two female roommates, the suddenly wide-eyed and drooling Dean oglingly asks "You live with two girls!?
The somewhat strict Dean, who is very tough with his students, usually cuts his students very few breaks, as in "The Gift". Jack, who is short of money again, attempts to get the cooking school to finance a loan for him; when he reveals his reason for the loan, to payback Mr. Roper for the cost of a mink coat which he buys with Mr. Roper's cash for Mrs. Roper, and which Chrissy thinks is for her, and reveals that he also has a girlfriend, Travers, who now thinks Jack is romancing four women, refuses to grant the loan, exclaiming "I don't think you can make it through the week!"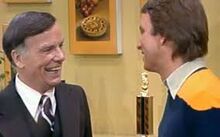 Dean Travers can at times, also be somewhat duplicitous in any attempt to make himself and the school look good in the public eye. In "The Bake-Off", he strong-arms Jack into submitting a pie for the competition. When Chrissy accidentally eats his entry, she attempts to substitute one of Hoffmeier's pies which she buys from the grocery store, all hell breaks loose when Travers, after discovering the deception, and who will stop at nothing to win the bake-off, stubbornly insists that Jack use the pie, even with Mr. Hoffmeier (Leon Askin) present as one of the judges! All is to no avail, however, as the pie and many others, are thrown in a hilarious pie fight!
In the season 4 episode "Jack's Graduation", the Dean fails Jack for a dish which a dishonest classmate, Ben Baxter (Steve Vinovich) made and switched with Jack while he was not looking during the exam; after getting Ben, and then him soon afterwards, to stop by the apartment, the roommates get the Dean, who was in the kitchen with Janet (apparently a bachelor, he was almost all over her, as Janet had to twist his wrists to get him to behave himself!) to overhear Ben, who was in the living room with Chrissy,  who he thought he was there to meet, admit that he switched dishes with Jack, and hear him call him an "idiot windbag!" When he passes Jack and fails Ben, it shows that the Dean, even with his toughness and other character flaws, can still be of fair judgement.