Bart Furley, the hard-hearted brother of Mr. Furley, appears in the episode "Furley Versus Furley" in Season 5.
Personal Information
Gender:
Male
Height
5'3"
Body type:
Diminutive
Occupation/
Career:
Real estate magnate, Owner of Hacienda Palms Apartments
Related to:
Brother of Ralph Furley
Character information
Appeared on:
Three's Company, in guest appearance in the episode titled "Furley Versus Furley" in Season 5
Character played by:
Hamilton Camp

Bart Furley is the hard-hearted, back-stabbing, mean spirited, and ruthlessly cruel brother of Ralph Furley and new owner of the Hacienda Palms Apartments in the fifth season Three's Company episode titled "Furley vs. Furley". Bart was played by veteran character and voice-over actor Hamilton Camp.
About Bart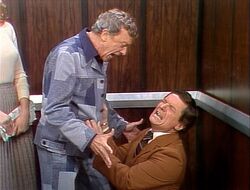 Bart, who bought the Hacienda Palms apartments from the Ropers in Season 4, was often mentioned by intimidated brother and landlord Ralph Furley, but never seen until Hamilton Camp's appearance as Bart in season 5, when the roommates, who often complained to Mr. Furley about repairs which needed to be done around the apartment, calls on behalf of Ralph to ask Bart to give Mr. Furley more money to properly do repairs that need to be done; instead, the hard-hearted Bart, who gave Mr. Furley his job as landlord at the apartment, "fixes" the problem by firing Ralph, and then offering the job to Jack!
It takes a little coaxing by the roommates to lure Bart into his office building elevator to try to coax Bart, who was once terrified of being stuck in elevators between floors, into giving Ralph his job back. When that plan fails, and also only after Mr. Furley terrifies him by threatening to report him to the city housing commission over numerous apartment code violations in his apartment properties, the suddenly brought-to his knees Bart acquiesces and gives him his job back, doing a complete about-face and saying, "If I knew he wanted his job back so badly, I would've never let him quit!"